Software requirement: HiDownload 7.0x or higher (Download it)
How to download radio stream from radio-locator.com by HiDownload
radio-locator.com lists all known sites on the Internet that publish information about broadcast radio stations. While there are several other extensive lists of radio stations available on the World Wide Web, radio-locator is, to the best of our knowledge, the most comprehensive.
The radios are mp3 streaming(pls, m3u), window media stream(asx, wmv, asf), and other streaming format, HiDownload show you the ability of all-in-one downloader, only one-click and download live radio streaming to your PC.
Step by Step Instructions
1.Open radio-locator webpage, and click the "U.S. state", or "Canadian province", or other link.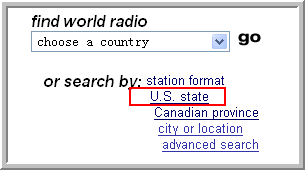 2.then Select a state from the map below, and open the radio lists webpage.
3.click mouse right-button on the "Listen!" link(or "Bitcaster" icon link) and select "copy shoutcat"(IE Browser) menu, or "copy link location"(FoxFire Browser) menu.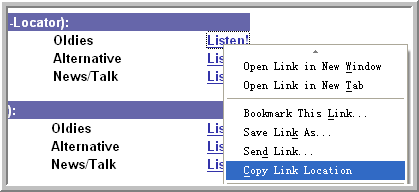 or
4.run HiDownload and open "Add" window, press "OK" button to download radio stream.
5.if the links are .pls, .msu or .asx and other meta files, HiDownload get automatically the radio actual links and download the radio live stream.